New Music Tuesday: Julianna Riolino, All Blue
A number of Tuesdays have passed since Julianna Riolino's incredible first full-length solo record, All Blue dropped (and 188 Tuesdays have passed since I last shared new music with you!), but this record is just so good that I had to break the silence.
I discovered Julianna Riolino through my Daniel Romano obsession. She's the "backup singer" for The Outfit—Daniel Romano's latest project, and in my opinion, the greatest rock-n-roll band of all time.
If you've seen The Outfit live, you know Riolino is the real star of the show. She brings incredible energy to a band that is already exploding with it, and somehow manages to stay on top of Romano's constantly-changing lyrical phrasing and arrangements. Speaking as someone with a little bit of harmony singing experience, trust me when I tell you that is not an easy feat.
Riolino takes the lead on a few Outfit songs (one of them, a blistering power-ballad rendition of one of Romano's cherished canonical country crooner classics), but otherwise drives the band from the back(up) seat. I think I speak for all Outfit super-fans when I say we collectively lost our shit when the pre-release of All Blue dropped.
And that shit was vindicated! There are a handful of albums my wife and I joke that every song on the record is your favorite song on the record, and then your favorite song comes on! All Blue is on that list.
Every song drips with tight harmonies and attitude. Lyrically the songs creatively dance around abstract 60s psychedelia, heartbreak and self-introspective themes—vulnerable, but with the confident, feminist bent Riolino portrays on stage.
Lone Ranger, the first single, has a bouncy 80s sitcom vibe that contrasts brilliantly with the theme of accepting regret and loneliness. You have to see producer Aaron Goldstein's breakdown of this song. The day this video came out, I was in my car, starting to pick up on the 50s girl group-style backing vocal parts in the bridge. I thought to my self that I needed to pull up the lyrics when I got off the highway. I shit you not, that day he posted this breakdown of the song and highlighted the process of writing this very part!
Nothing showcases a powerful voice like a country ballad, and let's face it, we are all in on this record for Riolino's face-melting voice. Queen of Spades really shows off her intonation and the timber of her voice. It takes a seasoned country singer to sing this way, and to sing harmony with yourself like this is on another level, still. "Whatever it is you feel today, It's as steady as a crashing wave," she croons in the song's climax to finish the chorus one last time, anchoring the record with a perfect country song.
The other reason all of us on team Riolino are smitten by this record, is that stage Riolino's attitude comes through loud and clear. Why Do I Miss You (my next favorite song) is the big payoff: a classic relationship games song, and the perfect venue to showcase her brash delivery. "When I kiss other boys, I laugh and I cry (phonetically, crawh) at the same time." She has the control to carry a complicated melody line into falsetto and back down again without loosing pitch, but frequently opts to punctuate the end of a line with a spoken phrase instead. The tension this creates is the chef's kiss on her signature delivery. The song ends, "And sip on this ripe thought, I got enough of my own, Without you making me feel lost!" clipping the signal into distortion, brilliantly, exactly as it should be.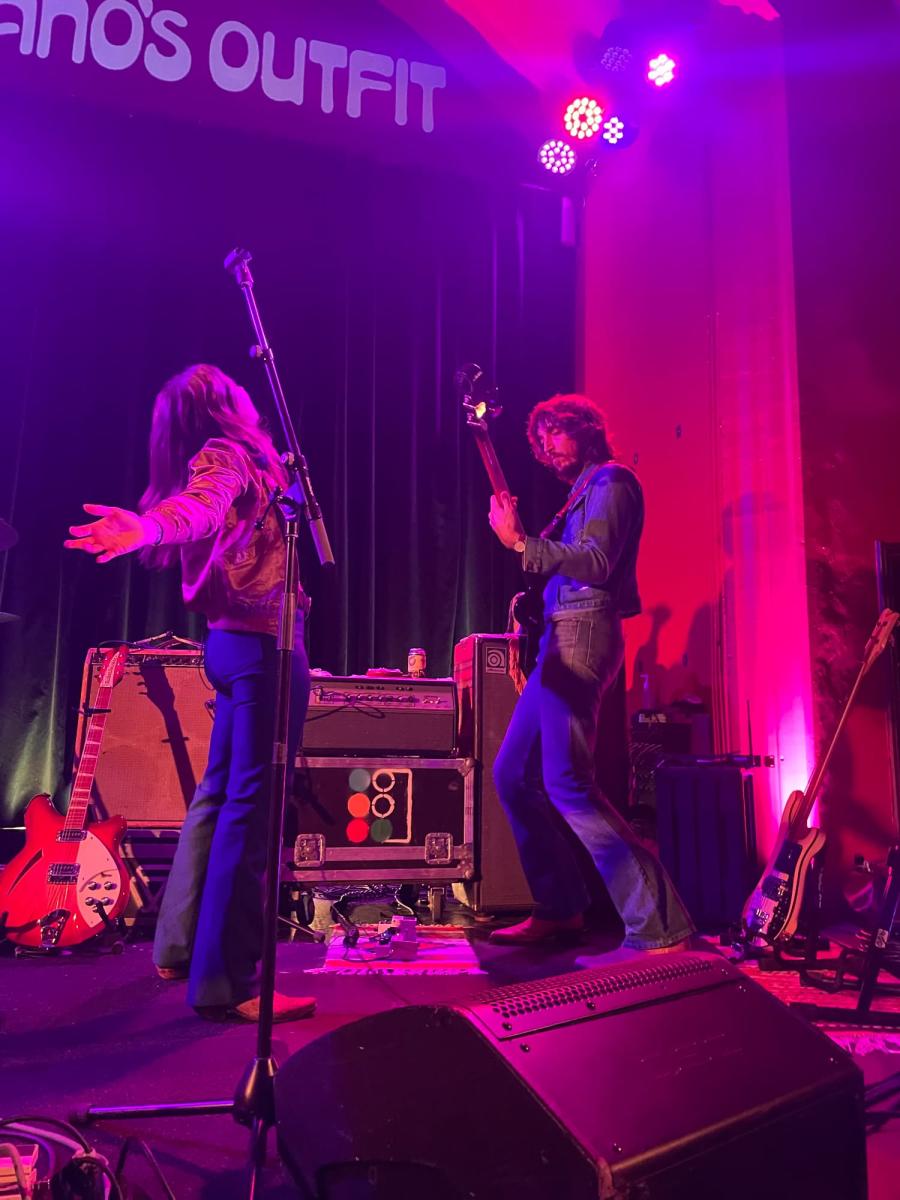 Players on this record include other Outfit members, Ian Romano and Dave Nardi (who my wife and I were heartbroken to not see on the American leg of the Outfit tour this year). Riolino's husband, Roddy Rozetti, was sadly stuck in the U.S. when most of the tracking for this record took place. According to producer (and crack pedal steel player) Aaron Goldstein, he does appear on a few songs that were pulled from the demos. Roddy Rozetti is the one who inspired me to pick up the electric bass again after 20 years of almost exclusively playing double bass. He is one of my favorite bass players.
The production, arrangements, and instrumentation on this recording are stellar. Every corner is filled with nuance and creativity. Despite the credits sharing so many members of The Outfit, All Blue really feels like everything you hoped a Julianna Riolino record would be. This is not only a testament to her ability as a song writer and solo artist, but to that of the friends and band mates who support her.
If anyone in contact with the band reads this, please tell them to tour this record in California, and don't forget to bring Nardi!
Get All Blue