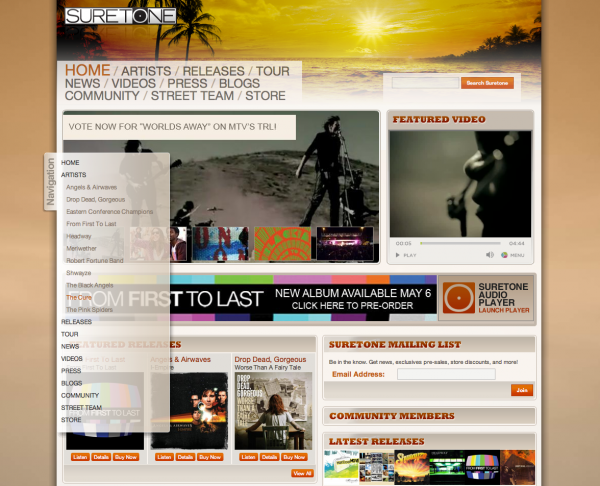 Suretone Records is an independent record label in Santa Monica California. There catalog includes titles by Chris Cornel, The Cure, Shwayze, The Pink Spiders, and more. The website provides tour dates, press materials and of detailed information on artists and their releases on the label.
Credits

The Suretone website is a BKWLD project. I acted as development lead and handled a good chunk of the underlying logic, CMS and front end build. Greg Patterson was the designer on the project, Ben Borowski did Flash, Koa Metter and Garrett Bjerkhoel built various features into the system and handled their fair share of CSS. Marylee Burman was the project manager, and Eddie Meehan was the project director.
Features

The site features a fully custom CMS for managing artists, releases, audio tracks, tour dates, and various press materials. The CMS also allows staff to publish news, press releases, internal banner ads and allows administrators to control access to various types of site content.
The site is heavily integrated with third party web services like Mozes, Flux, and Brightcove, helping them to reduce development costs and increase visibility of their content on other networks.
Some of the finer, simpler touches are the audio player that opens in its own window so you can take the music with you without interruption, the secondary navigation stuck to the left side of the screen, RSS feeds for just about every thing, you can subscribe to the tour calendars in your favorite calendar application, as well as speak your peace in the Flux community integrated right in the site.
There is definitely a lot going on here, and it was a big challenge to get all the third party things to play nicely together while still maintaining some semblance cohesion. In addition to the RSS feeds for EVERYTHING