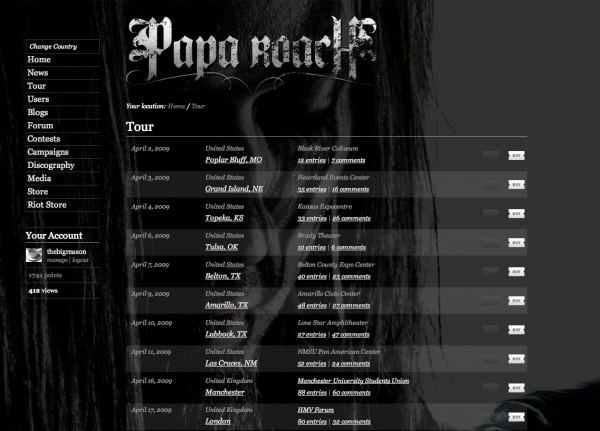 Papa Roach is a four-piece rock band from Vacaville, CA. Papa Roach has been a long time client of BKWLD and now ground(ctrl). They were one of our beta testers on the version 1 system and played a big part in us getting our big platform off the ground.
Papa Roach's new album, Metamorphosis is available now on Interscope and has officially made the Billboard Top 10 in the US.
Credits
The Papa Roach website is a ground(ctrl) system. Greg Patterson did the primary layout and design, I did the build and assisted in some of the design elements. Robert Reinhard implemented new localization features. Brent Scheffler is the lead developer for the ground(ctrl) system, and Eddie Meehan is the project manager.
Features
As with all ground(ctrl) powered sites, this system is a fully featured social network that promotes communication between fans and artists. Visitors can befriend one another as well as communicate with the band via a public commenting system, private messaging, and forums. The site is also a full featured website that allows the artists and their management team to blog, post news articles, photos, video, tour dates, host contests and run grass roots street team promotions. There is also a store where visitors can purchase tickets, digital downloads, and merchandise.
Take a look: paparoach.com