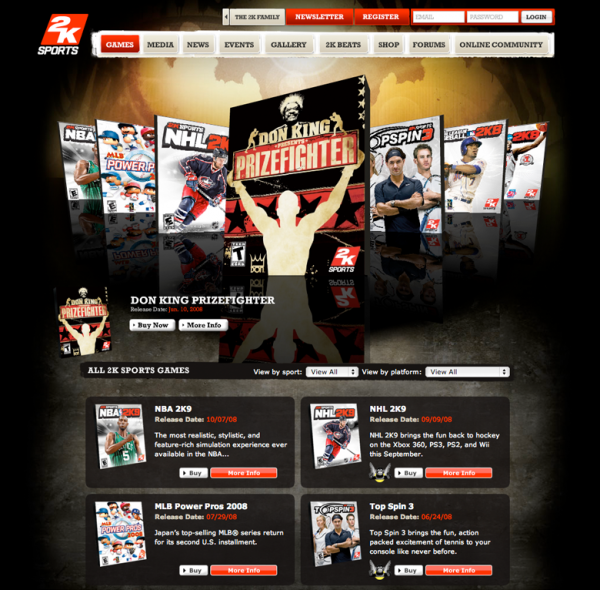 2K Sports is a subsidiary of Take-Two Interactive Software, Inc. They specialize in sports games, high-profile licensing, and killer promotional events.
Credits
The 2K Sports website is a BKWLD project. I built the content management system, and handled the CSS on the front and back ends. Robert Reinhard was the development lead and built the logic and tempting system on the front end. Jeff Toll was the creative lead and is responsible for the look and feel of the site. Dan Fields was the project manager and Ryan Vanni the project director. Aaron Egaas has taken the reigns as lead developer on all the future phases of the site. We continue to work closely with 2K Sports' crack in-house marketing and development team to bring in additional features and information to the site.
Design
No other gaming company I'm aware of has taken this bold a step to cohesively brand their company on the web. Each section has been polished to the finest detail. From the grass court background of the Top Spin 3 page, to the way the game links control the master window of the break-out audio player in the 2k Beats section.
All the usual game info, screen captures, video, platform features are included, and organized by sections and games. But we went a step further and aggregated game specific forum content, news and events within each game page. 2K Sports games have extensive online league play features, and we worked with 2K's internal staff to incorporate that content within the site as well.
CMS
The content management system provides a means to publish and manage all the content on the site, from gaming platforms, to promotional tours, to streaming music. It is easily one of the most robust and complex CMSes I have built.
The website is hosted internally by 2K Interactive. The CMS itself is only accessible via a staging environment where content is first published and proofed before being pushed to the live website. The live site is hosted on an array of servers, load balanced to maintain the high level of traffic in the on the website, forums and information coming in from Xbox Live and other console networks. Once content on the staging server is approved, automated scripts to migrate content from the data store and files from the staging server are run vie easy to use controls built into the CMS.
Content
No matter how many complex features you build into a content management system, a site is only as good as its content. 2ksports.com wouldn't be a fraction of the site it is today if it wasn't for the diligent staff at 2K Sports. Their internal marketing staff is extremely experienced and knows the importance of properly representing their products of the web, and maintaining ownership of the delivery system.